Prof. Haim Matzkin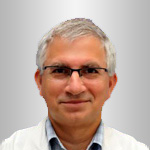 Urologist
Head of the urology oncology department, Ichilov Medical Center
Departments: Urology, Urology Oncology
Overview:
One of the leading experts of Israel, oncourology professional, Professor, global expert in oncourology and treatment of benign and cancer tumors of the prostate. Professor Haim Matzkin is the author of more than 150 scientific papers and the co-author of some academic publications. Since 2000 he has been a Professor of urologic surgery of Faculty of Medicine at Tel Aviv University. He has more than 30 years of professional experience.
Domain of clinical interests:
Brachytherapy and prostate cancer hormone treatment, prostate adenoma treatment, kidney surgery, urinary bladder surgery, treatment of hysterobubonocele in children
Education:
| | |
| --- | --- |
| 1971-1977 | Faculty of Medicine at Hebrew University, Jerusalem |
| 1980-1983: | Practical training at Department of Urology, Faculty of Medicine at Tel Aviv University |
| 1984-1989 | Internship in general urology at Ichilov Medical Cente |
| 1990-1992 | Internship in urological oncology at hospitals in the USA, Miami and Memphis |
Clinical experience:
Head of Epidemiology Department, Army Health Branch, Israel Defence Forces
The senior doctor at Urology Department of Ichilov Medical Center, Tel Aviv
The head of Urology Department of Ichilov Medical Center
Membership in professional organizations:
Israeli Medical Association
Israeli Association of Urology
U.S. Association of Urology
European Association of Urology
Israeli Association for the prevention of cancer (board member)
Research & Publications:
Show more publications
Treatment Inquiry & Appointments
One of our medical consultants will call you within 2 hours.