D.R.A Medical Center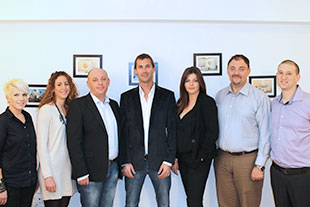 D.R.A Medical
provides patients from throughout the world with reliable, highly-qualified and reasonably-priced health care services.
D.R.A Medical
includes official representatives from 15 leading medical clinics in Israel, including Assuta, Israel's largest private medical center, and the Rambam and Ichilov Hospitals. Our patients can choose from over 500 of Israel's leading physicians working in different medical specialties.
As an international company,
D.R.A Medical
can offer its patients a unique and exclusive service: medical treatment in the Helsicore Center, a state-of-the-art cardiovascular clinic in Tbilisi, the capital city of Georgia. Medical teams, led by Israel's leading surgeons, will fly to
the Helsicore Center
to undertake the most complicated cardiovascular surgeries. This is a rare opportunity to receive treatment meeting the highest standards of Israeli medicine from leading international specialists using the most advanced equipment. Our service can help you save approximately 50% of the cost of similar medical treatment if carried out in Israel or other countries.
D.R.A Medical
is the only medical company led by one of Israel's leading surgeons with an international reputation,
Professor Ron Karmeli
.
About D.R.A Medical:
Consultations and treatments available from over 500 medical specialists;
15 partner hospitals;
8 medically-trained personnel to accompany patients;
Patient reviews are 97.5 % positive;
1200 medical procedures and laboratory tests performed annually.
What Does D.R.A Medical Offer its Patients?
Medical examinations and treatments are not limited to one clinic, city or country, thus enabling clients to choose the optimal and most effective options for them.
Patients receive fixed diagnostic schedules with set prices, as well as quick and real-time due dates for medical examinations and treatments.
Patients enjoy our collaboration with the Israel's leading medical professors. This enables patients to choose the doctor and appropriate specialist to meet their needs, wishes and budget.
D.R.A Medical provides accommodation for the entire duration of the diagnostic procedures and the treatments.
Patients benefit from customer service at the highest professional level, including ground transfers, interpreters, excursions and the continuous, ongoing services of a medically-educated specialist.
D.R.A Medical maintains contact with patients even after they return home.