 Rambam Medical Center in Haifa
Rambam,
the largest medical center in northern Israel
, is also the fifth largest medical center in Israel. Located in Haifa, Rambam Medical Center is a Level 1 trauma center that treats patients from 11 different districts. As a public, government-controlled, non-profit medical center, Rambam treats civilians as well as soldiers injured in battle or terrorist attacks.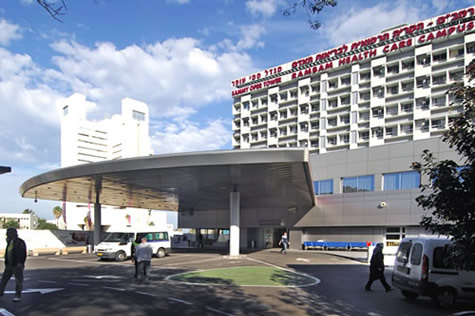 As an academic hospital, Rambam collaborates with the School of Medicine at Haifa Technological Institute to provide extensive training to students and doctors while carrying out scientific and clinical research. Its high-quality treatment, state-of-the-art equipment, and medical tourism department especially attract foreign patients.
Amenities
Rambam Medical Center has 900 hospital beds, 36 departments, 54 clinics, 10 research institutes, 6 laboratories, and several outpatient clinics. It also has Mayer Children's Hospital, the only children's hospital in northern Israel. Each year, Rambam treats 80,000 inpatients and 900,000 outpatients. Its 4,444 employees include 1,000 doctors that perform 30,000 operations, 2,500 cardiac catheterizations, and 5,000 baby deliveries annually.
Achievements
Since 2007, the Rambam Medical Center has been involved in several development efforts. These include upgrading patient services, building new facilities, and fortifying existing hospitals to withstand emergency situations. Among the new facilities, Rambam plans to offer an emergency underground hospital that will be able to generate its own power and provide oxygen, drinking water, and medical supplies for three days.