 Carmel Medical Center in Haifa
Commonly known as Kupat Holim Clalit, Carmel Medical Center is one of Israel's leading health service organizations. The Lady Davis Hospital is part of the Carmel Medical Center. Carmel serves residents of Haifa, its suburbs, and other northern regions.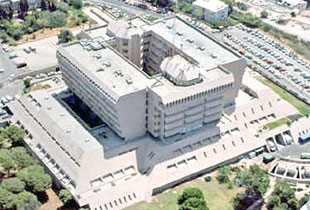 Carmel is the largest of four Clalit Health providers with 3.8 million insured members representing 54 percent of the Israeli population. Carmel Medical Center works along with Emek Medical Center, Joseftal Medical Center, Kaplan Medical Center, Loewenstein Hospital Rehabilitation Center, Meir Medical Center, Rabin Medical Center, Schneider Children's Medical Center, and Soroka Medical Center.
Amenities
Carmel has outstanding
cardiology
,
vascular surgery
and thoracic surgery departments. It offers vast emergency rooms, outpatient departments, and 4,400 hospital beds. That number represents one third of all acute hospital beds in Israel. Carmel Medical Center also focuses on community medicine by offering home dialysis and preventive screenings through professional and initial care clinics.
Overall, Carmel treats 35,000 patients in its hospitals and 80,000 patients in its emergency rooms.
Achievements
Carmel Medical Center continues to pave new roads into advancing organ transplant operations while serving as a training center for students enrolled at Israel's medical schools. It is considered a branch of the Technion's Medical Faculty and Rappaport Research Institute and it integrates academic research activities with extensive clinical work.