Prof. Ron Epelbaum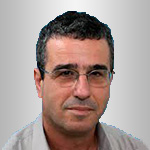 Oncologist
Director of the day patient department of the Division of Cancer at Rambam Health Care Campus
Departments: Oncology, Pancreatic Cancer, Lymphoma
Overview:
Doctor Ron Epelbaum is an Israeli oncologist, leading specialist of the Division of Cancer at Rambam Health Care Campus, expert in treatment of pancreatic cancer. He is the author of 79 research papers and a participant of multiple scientific conferences.
Domain of clinical interests:
Treatment of pancreatic cancer, research of lymphoma treatment techniques
Education, specialty:
Faculty of Medicine of Hebrew University, Jerusalem
Clinical training in oncology at Rambam Health Care Campus, Haifa
Specialty in oncology at Dana-Farber Cancer Institute, Boston, USA
Domain of scientific activity:
Clinical trials of new medications and complex techniques of cancer treatment
Research & Publications:
Show more publications
Treatment Inquiry & Appointments
One of our medical consultants will call you within 2 hours.