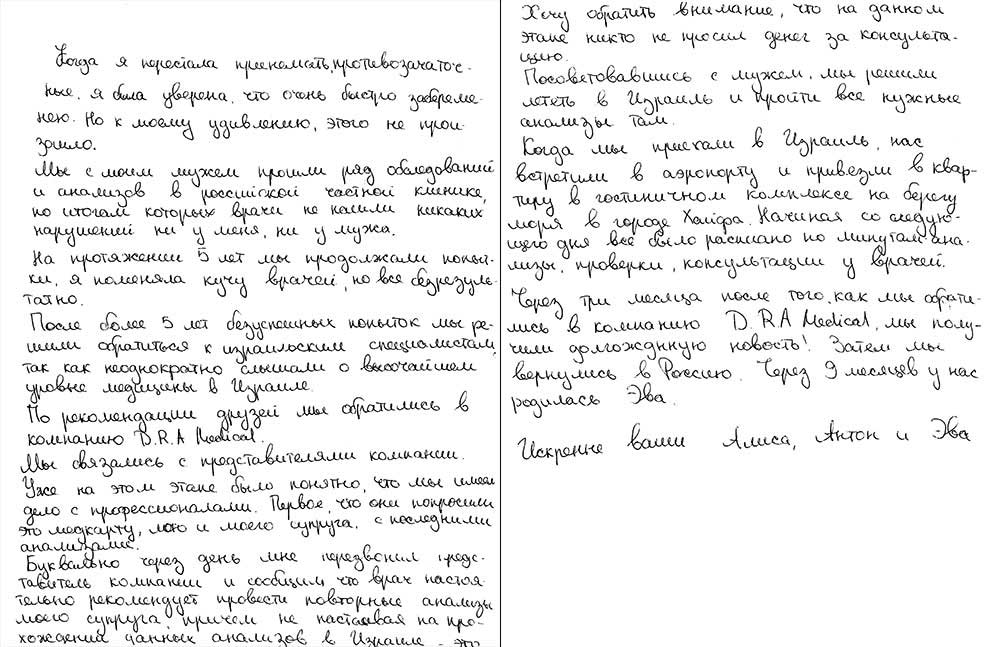 Testimonial:

When I stopped taking my birth control pills, I was certain that I would soon become pregnant. But to my surprise, it did not happen.

My husband and I underwent a series of examinations and analyses at a private clinic in Russia, where the doctors did not find any problems with me or my husband.

Over 5 years, we continued trying; we consulted with many doctors, but to no avail.
After more than 5 years of trying, we decided to contact Israeli experts, as we had heard much about the level of medicine in Israel.
Through some acquaintances, we got in touch with D.R.A. MEDICAL.
After talking to company representatives, it was clear that we are dealing with professionals. The first thing they asked for was our medical records, both mine and my husband's, with the latest analyses.

Literally a day later, I received a call back from the company representative, who said that the doctor strongly recommends a re-examination of my husband, without insisting on taking these tests in Israel – this was their general recommendation.

I want to note that no one had asked for any money for a consultation at this stage.
After consulting with my husband, we decided to fly to Israel and to take all the necessary tests there.

When we arrived to Israel, we were met at the airport and were taken to an apartment at a hotel complex on the sea shore in the city of Haifa. Starting from the day, our schedule was laid by the minute - tests, examinations, consultations with doctors.