Dr. Benjamin Bernfeld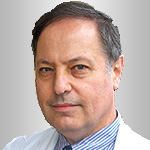 Orthopedic surgeon
Head of the Orthopedic department, "Carmel" Medical Center
Overview:
Graduated medical school in 1984 and completed specialty program in orthopedic surgery in 1992, Haifa, Israel.

Fellowship in Arthroscopy and sport medicine in 1990, Germany and fellowship in Knee and hip arthroplasty in 2004, Canada.

Dr. Bernfeld participated in countless conferences around the world.
Involved in several research projects in cooperation with Technion medical school, Haifa and published many articles.

Lectures at Technion medical school, Haifa.

Currently is the head of department of Orthopedic Surgery, Carmel medical center, Haifa, Israel.

Dr. Bernfeld has vast experience with thousands of joint arthroplasties, hips, knees, shoulders and sport injuries, arthroscopic ligament reconstruction, meniscal and cartilage problems.

Dr. Bernfeld and his team can offer solutions to all kind of orthopedic pathologies- spine, upper and lower extremity surgery, children pathology and metabolic bone disease- using the newest technology: robot assisted surgery and Personalized instrumentations (PSI).
Research & Publications:
Show more publications