Testimonials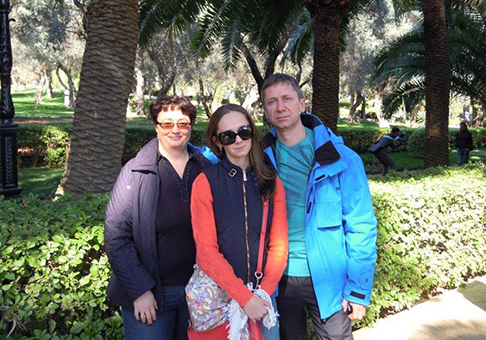 Review & Recommendation Letter:

Our family of three went to Israel for diagnosis and checkups. Organization of meetings, leisure, accommodation, transfers, surveys, support , report on the results of the diagnostic, document translation into Russian, carried out by D.R.A Medical. For all of these services D.R.A Medical deserve the highest rating.

Checkups were carried out in accordance to pre-agreed volume and rate.
All surveys were conducted by highly qualified specialists (professors from around the world, reach experience which can be found from their website).

Survey results, kindness and attention of the professors, medical professionals, representatives of D.R.A Medical surpassed all expectations. Part of the planned survey was canceled due to lack of need (based on the results of previous surveys), the price was adjusted according to the price list for services.

We express our gratitude to the representatives of the D.R.A Medical for their attention, empathy, interest shown in the surveys.
We recommend if possible to carry out surveys in Israel with the support of D.R.A Medical.

Ekaterinburg, Ponomareva.
Mail: [email protected]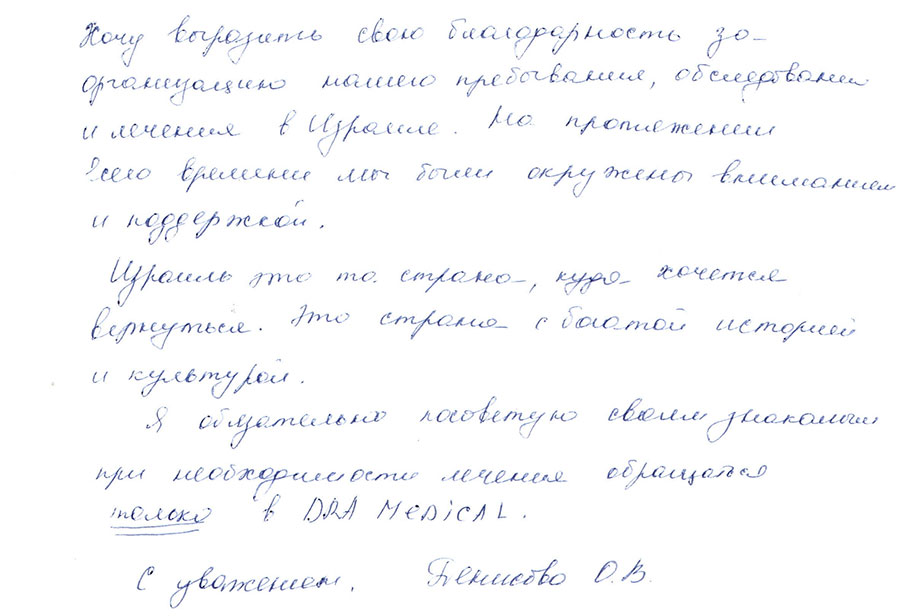 Recommendation Letter:

I'd like to express my great appreciation and say thank you for organizing our stay and set of treatments in Israel. Throughout our visit we felt that you were there for us. You cared and supported us through these times.

Israel is a country you want to go back again. It's a country with great history and a rich culture. I will undoubtedly recommend to anyone who may need medical treatment, to do so only through D.R.A medical.

With Respect,
Denisova O.V.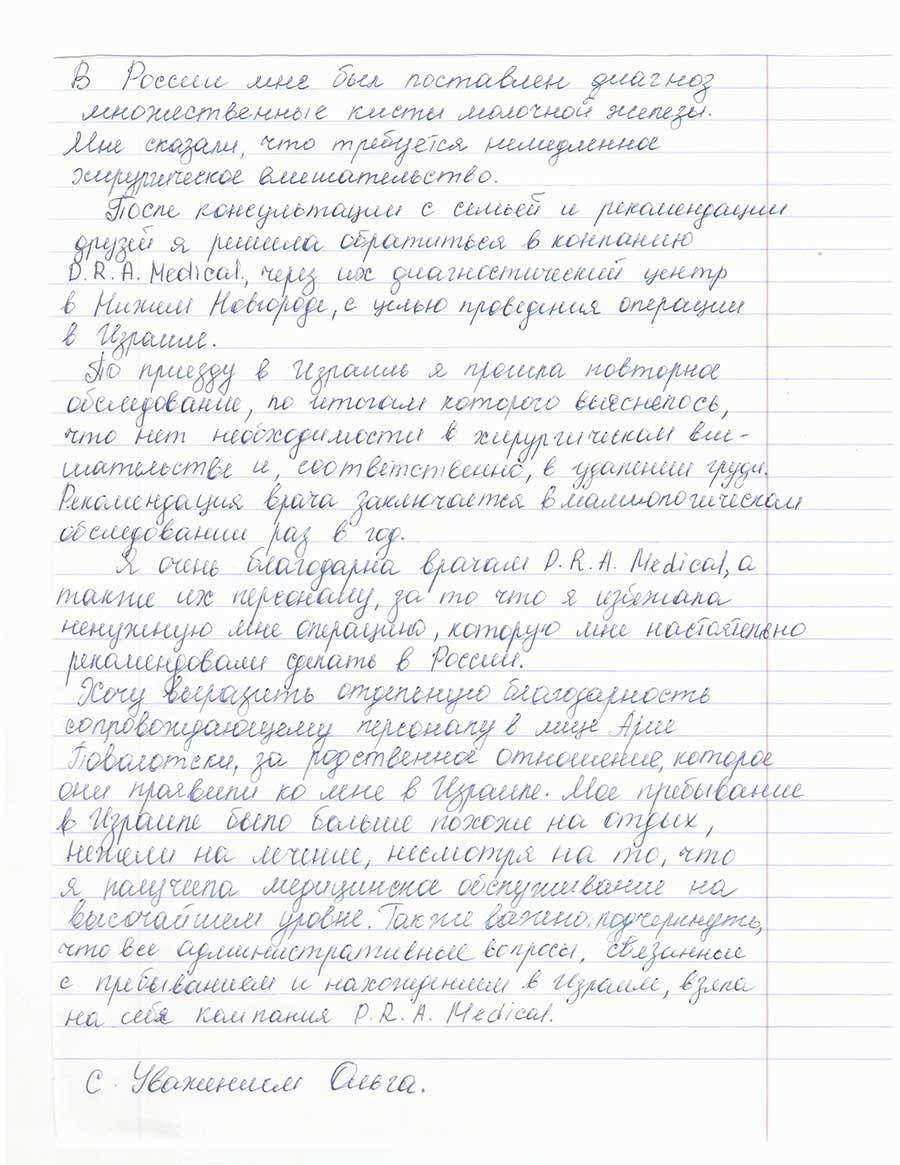 Testimonial:

In Russia I was diagnosed as having multiple lacteal cysts. I was told that immediate surgical intervention is required.

After consulting with my family and considering the recommendations from friends, I decided to contact D.R.A Medical through their diagnostic center at Nijnii Novgorod in order to have the surgery in Israel.

On arrival in Israel, I was re-examined, the results of which revealed that no surgical intervention and, therefore, no mastectomy is required. The doctor's recommendations boiled down to a breast examination once a year.

I am very grateful to the doctors of D.R.A Medical, as well as their staff, for helping me to avoid an unnecessary surgery, which was strongly recommended to me in Russia.

I wish to express special thanks to the support staff and especially to Arie Povolotski for the warm care they have provided throughout my stay. My visit in Israel was more like a vacation than a treatment, not to mention the highest quality of medical care. It is also important to emphasize that D.R.A Medical handled all the administrative issues related to my stay in Israel.

Thank you!
Olga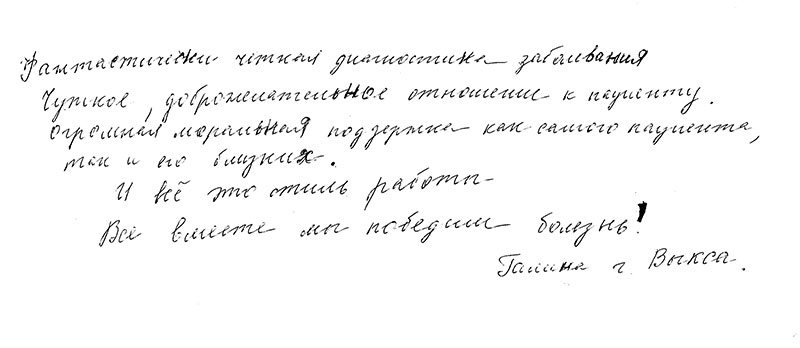 Thank you letter:

Amazingly accurate diagnosis of the disease. A warm and friendly attitude towards patients. Great moral support both for the patient and their family. This is your style.
We will overcome this disease together!
Galina, Vyksa
Jessica (prof Ron Karmeli)
Dr. Karmeli operated on me twice and in every meeting with him I was amazed by his compassion, his uncompromising professionalism and his integrity. He is, simply, extremely special – God broke the mold when He made him. In my opinion, there is Dr. Roni Karmeli and then there are all the other
doctors!

Jessica
When I was 18 years old, I was in a serious accident and broke one of my neck vertebrae. All the doctors told me that I would have a permanent disability and I wouldn't be able to perform simple activities. I developed numbness in my hands. Dr. Ohana operated on me. Today I'm 30 years old, a mother of two, I function normally and play sports - with no pain or difficulty, simply, only to Dr. Ohana!

Inbal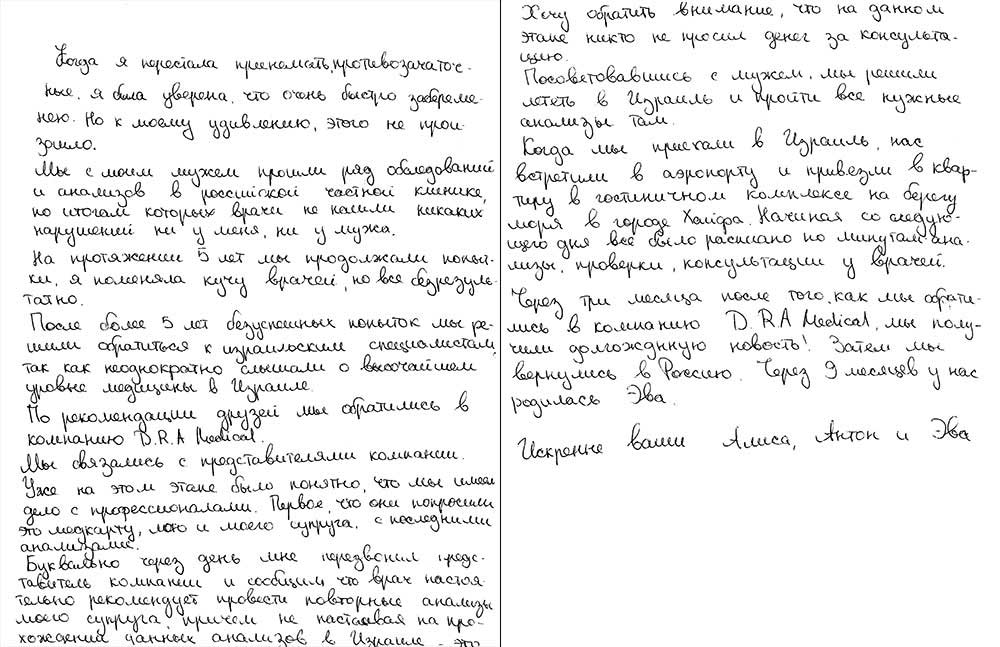 Testimonial:

When I stopped taking my birth control pills, I was certain that I would soon become pregnant. But to my surprise, it did not happen.

My husband and I underwent a series of examinations and analyses at a private clinic in Russia, where the doctors did not find any problems with me or my husband.

Over 5 years, we continued trying; we consulted with many doctors, but to no avail.
After more than 5 years of trying, we decided to contact Israeli experts, as we had heard much about the level of medicine in Israel.
Through some acquaintances, we got in touch with D.R.A. MEDICAL.
After talking to company representatives, it was clear that we are dealing with professionals. The first thing they asked for was our medical records, both mine and my husband's, with the latest analyses.

Literally a day later, I received a call back from the company representative, who said that the doctor strongly recommends a re-examination of my husband, without insisting on taking these tests in Israel – this was their general recommendation.

I want to note that no one had asked for any money for a consultation at this stage.
After consulting with my husband, we decided to fly to Israel and to take all the necessary tests there.

When we arrived to Israel, we were met at the airport and were taken to an apartment at a hotel complex on the sea shore in the city of Haifa. Starting from the day, our schedule was laid by the minute - tests, examinations, consultations with doctors.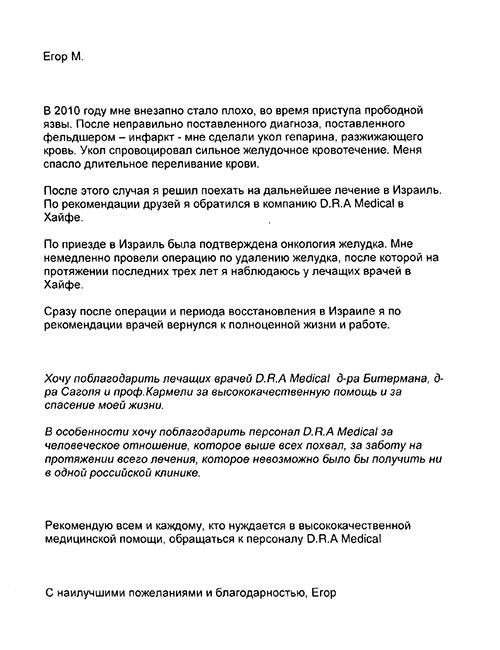 Recommendation Letter:

In 2010, I suddenly became ill during a perforated ulcer attack. I was given a shot of heparin blood thinner, after a paramedic mistakenly diagnosed it as a heart attack. The injection provoked strong stomach bleeding and my life was saved by a long series of blood transfusions.

After that incident, I decided to seek further medical treatment in Israel. On the recommendation of friends, I contacted D.R.A Medical in Haifa.

Once I arrived in Israel, doctors confirmed that it was stomach cancer. I immediately underwent gastrectomy surgery and have been under observation by Haifa doctors over the past three years.

As per doctors' recommendations, I was able to return to normal life and work immediately after the surgery and recovery period in Israel.

I want to thank D.R.A Medical doctors- Dr. Bitterman and Dr. Sagul as well as Prof. Karmeli for the high-quality care and for saving my life.

In particular, I want to thank the staff at D.R.A Medical for their caring attitude, which rises above all praise, and for the care provided throughout the treatment. This kind of care could not be obtained at any of the Russian clinics.
To anyone in need of high quality medical care, I recommend contacting D.R.A Medical.

With best wishes and gratitude,
Egor
Ruth Engel Eldar (Dr Nisim Ohana)
In 2011, Dr. Nissim Ohana operated on my fourth and fifth vertebrae and I now suffer from spinal disc herniation in my third and fourth vertebrae and will only agree to be operated on by him. His professionalism, caring and supervision make him the country's most recommended surgeon for spinal disc herniation.

Dr. Ruth Engel Eldar
Following a consultation with Dr. Karmeli, my
grandmother underwent surgery to treat the clogged left carotid artery in her neck. The carotid artery was partially removed and replaced with artificial material. The surgery went smoothly, Dr. Karmeli's interaction with my grandmother was warm and throughout the entire recovery process he made himself available to us. Thankfully, there were no particular complications. Prior to contacting Dr. Karmeli, I checked out all of Israel's best doctors and of all of them, Dr. Karmeli's bedside manner was the warmest and he shows real interest and concern for each patient. We are extremely grateful for his care.

David
Anatoly Sakharov (prof Dan Aravot)
In the past I suffered from heart problems and needed
cardiac surgery. When I met Prof. Dan Arvut I agreed that he would be the one to operate on me. The operation included several surgeries: bypass surgery, arrhythmia surgery and others for different cardiac problems. In the end, after the operation was completed, including the treatment and follow-up, I fully recovered because I myself believed that I would recover and my health would improve, and because of the very talented Prof. Dan Arvut who told me that I would recover quickly and that he would look after everything. He is an extraordinary and unique doctor and my surgery and recovery were quick and successful.

Anatoly Sakharov
I am 30 years of age and suffer from vascular problems in my legs. I consulted with countless doctors, most of whom were vascular specialists, but not one was able to successfully diagnose my particular problem, until a family member suggested I make an appointment with Dr. Karmeli in Haifa. Last week I met with him. After an extensive series of tests he identified the problem from which I have been suffering and recommended the appropriate treatment. His manners, professionalism and excellent care deserve to be recognized. If only there were more doctors like him! I would not hesitate to recommend Dr. Karmeli.

Yaron
Nicholas Foshin (prof Ofer Nativ)
I was treated by Prof. Ofer Nativ, after I had been visiting a number of doctors, and I want to say thanks for this amazing man who changed my life. I want to emphasize the attitude and the transparency and sense of assurance that Professor Nativ gave me and my family. I would also like to thank D.R.A Medical for getting me such a remarkable doctor and for their ability to organize quick and efficient treatment. I think, without Anna who accompanied me and my family throughout the treatment, we could not get through this difficult period!

Thank you for everything, Nicholas Foshin
Marat Zgidolin (Dr Arie Bitterman)
There are no words to describe Dr. Bitterman. Kind, professional and talks on the same level. I could go on and on to describe his amazing character, but I will summarize in a short sentence., I wish everyone to get this kind of care from their doctor.

Marat Zgidolin


Nihaya Jussi-Knatib (prof Ron Karmeli)
The truth is that there are no words to describe the quality of Dr. Karmeli's character and his incredible professionalism. We arrived at the Carmel Hospital with my father after his
carotid artery swelled. He underwent a complicated surgery and despite our worries and fears for the outcome, Dr. Karmeli's confidence coupled with his humility and his warm manner demonstrates, with no exaggeration, how special he is. We must appreciate people of his qualities and reward them appropriately. He is an asset to Carmel Hospital and to the entire country.

Nihaya Jussi -Khatib
Camila Vega (prof Martha Dirnfeld)
I am currently under the care of Professor Dirnfeld for
the birth of my second child. She is, very simply, an amazing doctor. The treatment is so stressful but when I see her and hear her explain everything, my stress vanishes and I remember that thousands of children have been successfully delivered under her care.

Camila Vega
Michal Yaniv (prof Ilana Duek)
I suffer from FMF years and after much frustration and lack of response I got help from Prof. Duek through Daniel Karmeli. After the first consultation, I went through several tests to confirm the diagnosis. D.R.A & Prof. Duek joined another expert. For the first time in my life, I that the real treatment began. Although I suffer from a chronic illness, the improvement in my situation cannot be describe in words. The extent of my seizures decreased drastically and the impact on my quality of life is truly minimal.

Michal Yaniv
Igor Polishok (Prof Ofer Nativ)
In Russia I had two surgeries to remove kidney stones, in the second one I got a serious infection and was hospitalized for almost a month in the hospital. Informed me that I have another surgery. My wife thanks to personal contacts, contacted Arie, one of the founders of D.R.A Medical. after a quick brief we flew directly to Israel. After the diagnosis who took two days we were given me a completely different diagnosis by prof. Nativ. Today I'm after treatment, no longer in pain and completely healthy. I'd recommend everyone not to be afraid to ask for a second opinion, to get the right treatment and the best.

All the best, Igor Polishok
Elena Morozova (Dr Arie Bitterman)
DR. Bitterman is ver polite, thoughtful, explains everything patiently, not overly serious and has a good sense of humor. He even called me two days after the surgery to see how I was doing, not something that everyone would do!

Elena Morozova
Olga Berg (prof Martha Dirnfeld)
Her bedside manner is the warmest I could have
expected during this very complex process. She is sensitive, attentive, patient, very warm and caring, and takes responsibility for the treatment procedure from start to finish.

Olga Berg